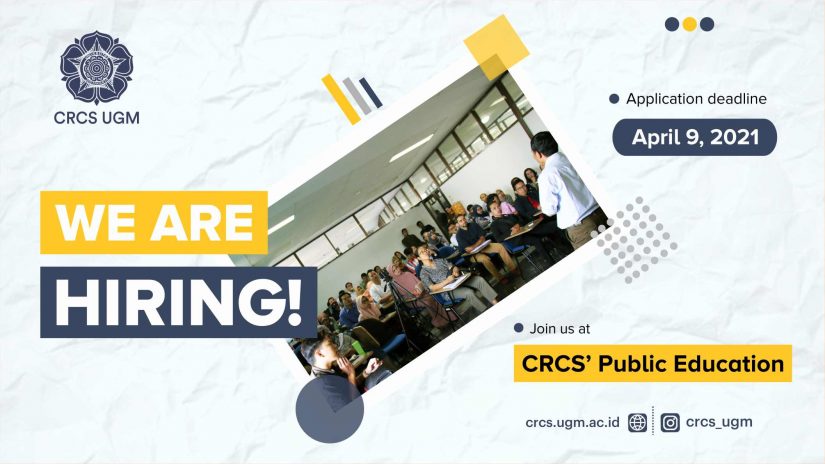 CRCS UGM – March 17, 2021
An open recruitment for Public Education staff member at CRCS UGM
CRCS' Public Education division, as its name already suggests, handles the dissemination of knowledge and research from CRCS to the general public.
The person in charge of CRCS' Public Education manages contents for the CRCS' website and social media, and work with CRCS team.
CRCS is now looking for a Public Education staff member, and we aim to have a person who:
has a decent proficiency in English;

is capable of essay writing and editing;

loves public speaking;

is experienced in poster designing; and

preferably has an M.A. in religious studies.
Those of you interested in joining the CRCS' Public Education division may send an application by submitting:
a CV,

a published essay in English and Bahasa Indonesia (one sample for each), and

one sample of a designed, published poster.
Please attach these application documents in an email with the subject "Application – CRCS' Public Education" with notes in the email's body explaining why you think you are a suitable candidate, and send the email to crcs@ugm.ac.id no later than April 9, 2021.
Shortlisted candidates will be notified and invited for an interview within the third week of April 2021.
Please have a look at the CRCS website and social media to see the kinds of articles we have published and events we have held. Should you have any further inquiries, please contact us at crcs@ugm.ac.id.