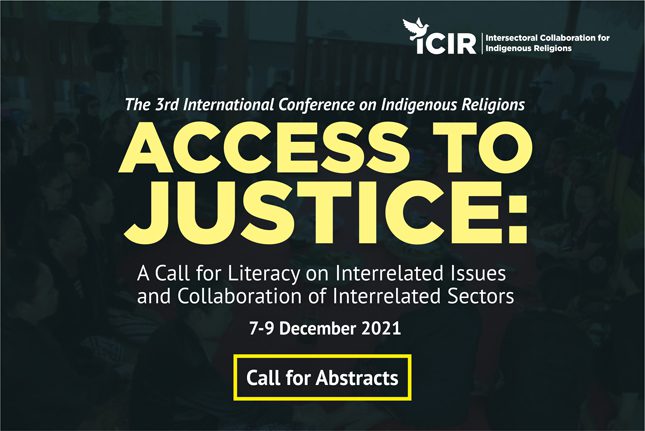 Intersectoral Collaboration for Indigenous Religions (ICIR)
The 3rd International Conference on Indigenous Religions
7-9 December 2021
This 3rd conference invites researchers, academics, CSO activists, practitioners, and community members to share ideas, insights, knowledge, experience, and wisdom on issues relative to access to justice, more specifically on, but not limited to, the following topics:
Indigenous Religions and other unrecognized religions: the need for inclusive religious freedom
Interreligious relations: Examining interreligious misconceptions, stereotypes, and stigmas, mediating the divides, and engaging religious moderation.
Gender expression and struggles: From domestic (violence), cultural, to ecological (in)justice.
(Inclusive) citizenship in the making: policy, advocacy, and oligarchy
Community empowerment: from civic and political to economic, social, and cultural rights.
Ecological justice: from environmental degradation to social inequalities.
The Pandemic, new normal and (in)equality: from education, healthcare to economic prosperity.
Important Dates:
| | |
| --- | --- |
| 30 October 2021 | Abstract submission |
| 5 November 2021 | Abstract acceptance notification |
| 25 November 2021 | Full papers submission |
| 7-8 December2021 | Conference |
| 9 December 2021 | CSO consolidation for coalition |
Further Information click here