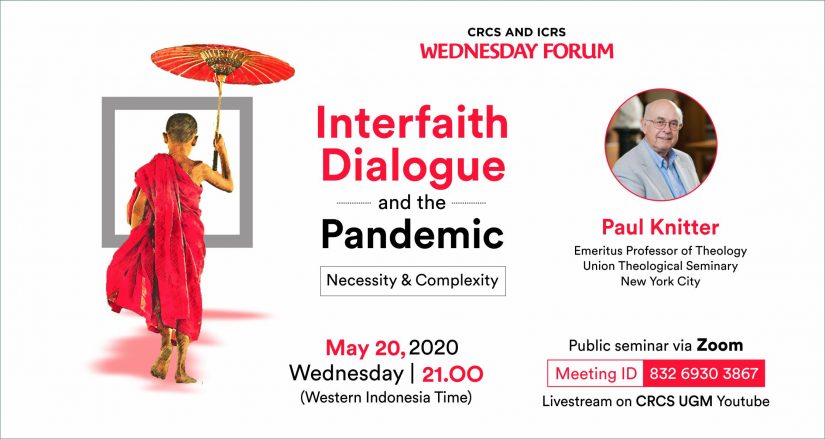 Interfaith Dialogue and the Pandemic: Necessity and Complexity
Wednesday Forum – May 20, 2020
Paul Knitter is an old friend of CRCS, having taught courses here between 2004 and 2006.  To open our conversation with him, he will review some of the main concerns of his long career as a Christian dialogical theologian: 
The need that Christianity and all religions have of developing a "theology of religions." Such a theology is necessary in order to confront the reality that all (or most) religions contain within their teachings and beliefs obstacles to their commitment to interreligious dialogue.

The necessity, and the opportunity, of basing interreligious dialogue on the shared commitment of all religions to promoting human and environmental justice and well-being. (especially at this time of the pandemic). Interreligious conversation should be based on interreligious action and cooperation. 

What he has learned from his long dialogue with Buddhism (summarized in his book Without Buddha I Could Not Be a Christian), especially what social activists can learn from Buddhism concerning the "primacy" of compassion over justice, and of contemplation over action.

His recent research and publications about the generally unrecognized links between racial (or ethnic or national) supremacy and religious supremacy.
He will then take up questions about "Religions and the Pandemic" – what religious faith and interreligious dialogue can contribute to confronting the suffering and confusion that the pandemic has caused for so many people. 
Paul Knitter is the Paul Tillich Emeritus Professor of Theology and Religions at Union Theological Seminary in New York City. He earned a Licentiate in Theology at the Catholic Pontifical Gregorian University in Rome Italy (1966) before going on to earn his Doctorate in Theology from the Protestant University of Marburg in Germany (1972). 
Look at the full poster of this event here.