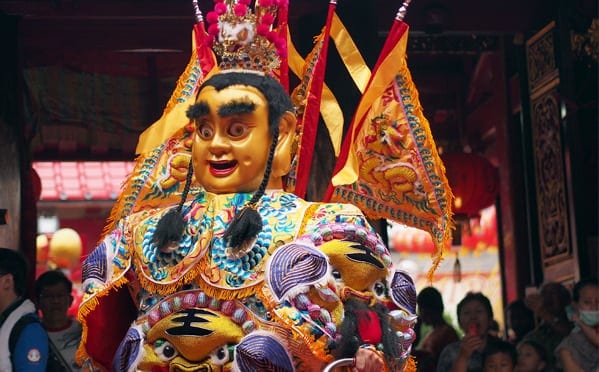 The Cap Go Meh celebration and the multiculturalism of the people in Tegal
Ira Chuarsa – 25 June 2018
Cap Go Meh (Yuan Xiao Jie 十五暝), also known as the Lantern Festival, has long been celebrated by Chinese in Indonesia. Interestingly, it has also been part of an annual event awaited by the non-Chinese in Tegal, Central Java. This phenomenon is explored by Khaerul Ummah (CRCS, 2004 batch) in his master's thesis titled Perayaan Cap Go Meh Bagi Masyarakat di Kota Tegal (Cap Go Meh as a Public Celebration in Tegal). The aim of this research was to explore the Chinese attitude towards as well as non-Chinese's roles in the Cap Go Meh celebration in Tegal.
The Cap Go Meh celebration is the peak of the Chinese New Year event, which falls on the fifteenth night—in Hokkien dialect, 'Cap Go' means 'fifteenth' and 'Meh' means 'night'. It is when the sky has the brightest full moon. During Han Dynasty (206 BC-221 AD), this occasion was exclusively held by royal family to show respect to Thai Yi, the highest God in the sky. After the Han Dynasty era was over, however, it became the public's, celebrated with many lampions as a symbol of wealth, accompanied by Barongsai (lion dance) and Dragon dance, as well as firecrackers to chase away the evil spirit.
To see the connection between the ritual in Cap Go Meh and its meaning for the public in Tegal, the author explores the history of the kimsin showering ritual in a beach during the Cap Go Meh celebration. Kimsin is deity statue, literary meaning 'gold body'. The main kimsin in Tegal is Tek Hay Cin Jin (originally named Kwee Lak Kwa). For people in Tegal, especially fishermen, he is honored as their God patron. Kwee Lak Kwa came to Tegal in 1737 through Muara Tua village. In his daily life, he was a well-respected trader due to his generosity in sharing knowledge of fishing, farming, and ways of making a living. He also fought the Dutch colonials along with other Chinese. People in Tegal believe that Kwee Lak Kwa has reached moksha while he and his assistants were sailing on a ship in a beach in Tegal and meeting pirates who wanted to take over their ship. Calmly, Kwee Lak Kwa asked permission to cleanse himself and change his clothes first. Soon after that, he and his assistants went ashore and left the ship. When the pirates took over the ship, suddenly winds and storm drowned them. Kwee Lak Kwa and his assistants were never found.
Therefore, every time people in Tegal celebrate Cap Go Meh, many kimsin are brought to the beach and the kimsin cleansing ritual is held there. As a remembrance of Kwee Lak Kwa's kindness to the people in Tegal, notably the Chinese, a temple (kelenteng) was built for him, named Tek Hay Kiong. This temple is not only used for worship ritual, but also functions as a place to learn Tao and hold the Chinese New Year events.
Ummah's thesis also reveals that not all of Chinese in Tegal share the same attitude and concern to the Cap Go Meh celebration. The older generation is more concerned about the ritual part and regards it as an important way of being attached to their ancestors. The younger generation, on the other hand, is more enthusiastic with the celebration part. His thesis also shows that not all Chinese in Tegal celebrate Cap Go Meh since some Chinese have converted to religions which considered the celebration to be against their teachings.
Looking from the perspective of the in-group-out-group categorization from social identity theory, in which both groups are considered distinctive and contradictive, Ummah argues that this theory does not fully apply in the case of Chinese in Tegal. In the Cap Go Meh celebration in Tegal, he shows that the out-group people, or the non-Chinese, are in fact involved in the celebration and to some extent in the ritual, by playing cymbals, gongs, or drums which help the ongoing ritual and celebration, and they gain something in return for their participation.
Ummah states in his thesis that in general, the society in Tegal does not see ethnic differences as a problem, unlike in several other places where they become segregating factor and sometimes conflict trigger. The fact that the non-Chinese can mingle well with the Chinese is the result of a long time assimilation, a process that leads to the attitude of the non-Chinese in seeing the Chinese tradition as also part of their own, making Cap Go Meh an inclusive event. This openness and acceptance of ethnic diversity in Tegal may demonstrate a best practice of multiculturalism.
Looking at the big picture of experiences of being Chinese in Indonesia, we can ask whether Tegal's Cap Go Meh celebration is also a norm in other places in Indonesia or rather an exception. We can also further ask whether this is limited only to the Chinese New Year events or also applies in everyday lives; whether today interactions with the Chinese are still the same as when the thesis was written ten years ago, or recent politics has instead affected the public's attitudes towards Indonesian Chinese since some current surveys indicate that negative perceptions towards Chinese have been increasing in latest years. These are questions worthy of future research.
______
Ira Chuarsa is a CRCS student of the 2017 batch.
Header image courtesy: Hendrie Hartono.