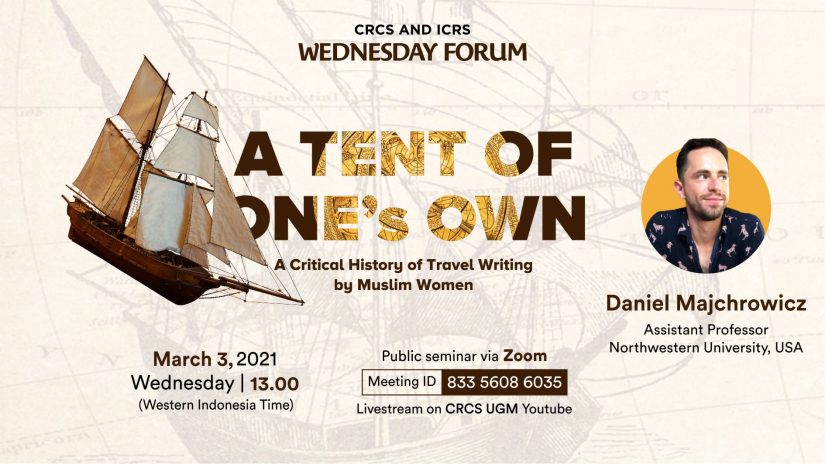 A Tent of One's Own: A Critical History of Travel Writing by Muslim Women 
Wednesday Forum – March 3, 2021
Nearly everyone has heard of Ibn Battuta, the Medieval Moroccan travel-scholar. But few could name a Muslim woman travel writer from the past. Indeed, one might ask, did Muslim women write about travel at all? And if so, how do their narrations inflect the way that we think about Muslim mobility? Women did in fact, write, but their voices have been poorly preserved and rarely translated, rendering their experiences inaccessible to all but the most specialized scholars today. This talk will be based on the upcoming book A Tent of One's Own: Three Centuries of Travel Writing by Muslim Women (Indiana University Press, 2021) which introduces this literature critically in English for the first time. Based on new research by a team of scholars from different linguistic traditions, it recovers forgotten travel writing by Muslim women from fourteen languages, including Indonesian, Uzbek, Urdu, and Dutch.
Daniel Majchrowicz is an Assistant Professor of South Asian Literature and Culture at Northwestern University in Evanston, IL, USA. His work focuses on travel writing, Urdu literature, and the history of Islam in South Asia. His upcoming books include A Tent of One's Own: Three Centuries of Travel Writing by Muslim Women and The World in Words: Travel Writing and the Global Imagination in Muslim South Asia.
________________
The full poster of the event is available here.
Meeting ID: 833 5608 6035