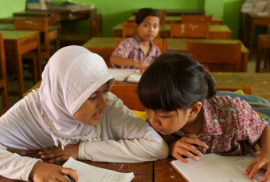 Deadline: Friday, February 6, 2015
The Center for Religious and Cross-cultural Studies (CRCS), Gadjah Mada University (UGM), Indonesia, and the Center for Southeast Asian Studies (CSEAS), University of Hawai'i, are pleased to announce a call for applications to join our summer 2015 workshop focusing on issues of religion and diversity in the Southeast Asian public.
What does this project entail?
The project will introduce select university and community college educators teaching at U.S. minority serving institutions (MSI) to issues of importance in the management of cultural and religious diversity in Southeast Asia. Through the lens of Indonesia, we'll explore the political and social challenges facing one of the most culturally diverse nations in the world; the role of religion in everyday life and local politics; Indonesian Islam and its relation to the wider Muslim world; the legacy of colonialism on intergroup relations; the position of the state in framing questions of identity; the struggles of indigenous practitioners to gain rights and recognition; and the vital role that civil society plays in addressing these questions in Indonesia's young democracy. Participants will have the opportunity to work with local scholars and to meet with community groups in the field in Yogyakarta, one of country's most diverse urban spaces and an internationally recognized center for the arts and education. As representatives from MSIs, program participants will also be given the opportunity to share their expertise on the challenges of teaching about issues of diversity (religious and otherwise) in their own communities.