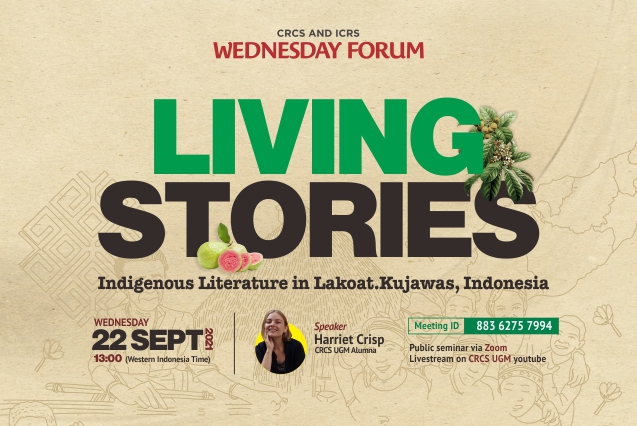 Living Stories: Indigenous Literature in Lakoat.Kujawas, Indonesia
Wednesday Forum – 22 September 2021
In recent years, 'indigenous literature' has blossomed as a genre and field of study. Authors across continents and oceans create written texts and performances as a means of expression, of subverting forms that had historically served to suppress, as research, or as a means of connecting within a global 'transindigenous' network. Notable are the growing bodies of Native American literature, Maori literature or Adivasi literature — but where does Indonesia fit into this? This talk explores the potential development of indigenous literature in Indonesia with a focus on Mollo community Lakoat.Kujawas, a community who, through writing, explore what it means to be at once Mollo, 'adat', Catholic, Christian, Indonesian and Timorese.
Harriet Crisp is a recent graduate from the Center for Religious and Cross-cultural Studies (CRCS) UGM where she focused on arts and religion, ecology, and indigenous religions. She has presented at the International Conference on Religion and Ecology and the International Conference on Indigenous Religions. Harriet currently works as a copy editor for The Jakarta Post.
The full poster of this event is available here.
Read the discussion summary of this Wednesday Forum here