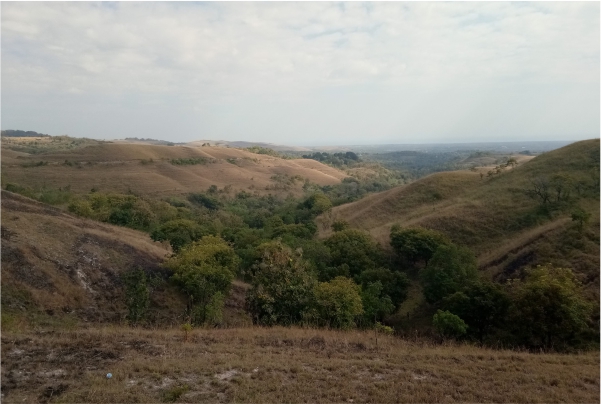 Marapu Adat Resistance Confronts Corporate Power and Land Secularization
Krisharyanto Umbu Deta
Translated by Lindy Backues, PhD
– 09 August 2021
Corporate Power and Modern Perspectives Concerning Land
Serving as a piece of the 2024 National Sugar Self-Sustainability Program, the Indonesian government plans to open 500,000 hectares of land for sugarcane harvesting.  One of the tracts of land targeted can be found in the region of East Sumba.  However, a challenge has arisen since several thousand hectares of this proposed plantation threatens to encroach on ritually protected land (adat land) controlled by the Marapu people. This project—which has already received official local as well as national government permission—has already destroyed several ritual sites (cathodes) maintained by the elders of Marapu.  It is thought that the construction of massive ponds for storing water in these sugarcane fields has served to exacerbate water shortages in nearby areas.  Additionally, official criminalization of several of the local indigenous leaders who have simply attempted to access their adat land has significantly colored the conflict.
Furthermore, as has been reported in the Indonesian national news magazine Tempo, claims toward ownership transfer of this adat-bound land have often been underwritten by way of manipulative, informal 'betel nut payments' offered to a few local residents.  These payments have been framed as proof that ownership of local land was surrendered to the company.  It conveniently overlooks the fact 'betel nut payments' are never taken by Sumba people as constituting symbols of transactional exchange; instead, payments of this sort traditionally serve as respectful cultural signs of the give and take of visitation.  Generally, when a guest visits an honored local person, 'betel nut payments' are to be tendered in order to help create an atmosphere of hospitality.  Moreover, a public narrative has also been constructed that these tracts are merely rocky, useless, dry strips of land lacking rainfall.  Thus, instead of useless land going to waste, the outside company (outfitted with their modern technology) will help increase productivity, causing the land to be more profitable in line with national sugar self-sufficiency goals (set by the central government) and local government economic growth targets.  As a result, the Marapu community, robbed of their relationship with their own land, are directly confronted by a cabal of the company, the government, and a few residents who happen to support the project in question.  In other words, the religious world view of the Marapu people in respect to their own land ends up obliterated by a secularized world view, one that values land only to the degree it brings about financial profit.
A Few Theoretical Considerations
There are a few academic perspectives available to us in order that such a problem might be better understood.  First, there is Samsul Maarif's indigenous religion paradigm, which offers a more ethical way for understanding indigenous religious perspectives.  These types of perspectives are generally more intersubjective in terms of their cosmologies, wherein interactions between human and non-human actors are viewed through the lens of intersubjective relationships. Interaction between humans and the environment is not framed as subject-object, with humans seen as dominant over the non-human.  In such an interrelationship, each subject is responsible for stewarding a commitment of reciprocation, ethical, and responsibility, with implications for outcomes experienced because of actions by fellow subjects, or even by one's own actions.
Second, we can look to Nasr's perspective of the importance (the need for) a worldview that is religious in response to ecological issues.  Seyyed Hossein Nasr has laid stress on the fact that we have profaned nature to the point that we have forfeited its sacrality.  As a result, the cosmos has ended up vacated of all spiritual meaning, a result often described as a secularized world view.
Third, there is Bruno Latour's critique of science and modernity.  It is very helpful to keep Latour's ideas in mind as one delves into secularized world views and their implication for environmental considerations.  For Latour, the distinction between nature (the ecological) and culture (the human) must be deconstructed by critically reexamining the idea of modernity that has helped to bring about a non-holistic (separative) way of thinking.  Modernization causes humans to see all things as disconnected from each other, as we see by way of the division between social sciences and natural sciences.  In response to this he recommends ecologization, a viewpoint that stresses a collectivization or a connectedness between humanity and nature that presents an impulse toward decentralization (a decentering) to decompose our obsession with anthropocentrism, without replacing it with another species of obsession.
Fourth, we have Michael S. Northcott's argument pertaining to the significance of indigenous religion as we strive toward land preservation, a perspective that sees indigenous religious views as vital resources for resistance and biospheric restoration in a context of environmental degradation.  In Northcott's view, a polycentric relational model—an intersubjective model radically decentered—is born from local cultural views that help to steward bio-diversified vitality and resilient ecosystems. In terms of concern for ecological factors, it is far easier to establish a positive track record on the part of local (adat) communities than it is for modern communities, whether this be in terms of concepts put forward or actual communal practice. Data compiled by National Geographic Society indicate that local (adat) communities—comprising only 5% of the global population—look after 80% of the earth's global diversity.  Even so, Northcott views the modern alliance long robustly maintained between nation-states and the global capitalist world as one of the greatest challenges related to these issues.
Resistance and the Marapu Religious Perspective
In the face of such a conceptual paradigm, communal resistance on the part of the Marapu people must be seen as integrally derived from their religiosity and their identity.  Communal stewardship of the land, especially in the face of destructive counter-efforts, is a byproduct of a type of indigenous religious commitment underscored by Maarif; something ethical, reciprocal, and responsible.  For instance, in the Marupu cosmology—as described by Marcos—land (tana) serves as the center of their cosmos.  But what they mean by tana is not the same thing as what we generally mean by land. Instead, tana points to a unitary ecosystem incorporating everything on the surface of the earth.  For those who embrace the Marapu religious system, land serves as a principal life source and all events on its surface result from the relationship between what is human (tau) and the Marapu, revealed in the relationship they nurture with their natural surrounding environment.  In this way, these beliefs compel them to care for their natural surroundings with great insight.
Responding to various ecological phenomena such as drought or the rockiness of land tracts that seem to render them useless—factors often used as justification for the arrival of outside corporate interests— Palekahelu discovered that the Marapu people demonstrate an impressive level of tenacity that shows up in their ritual (hamayangu) and communal (pawandang) agricultural system.  Rituals foster religious commitment and those faith constellation sets that constitute their historic mythologies and other oral traditions.  At the same time, pawadang (the communal component) serves as the basis for communal resilience as members of this community face local ecological complexities.  Agricultural activity is taken up communally, beginning with preparation of the soil, followed by the sowing of crops, land maintenance and cultivation, to the point of harvest.  Such a communal approach to agricultural activity assists them in dealing with local food and harvest limitations, since food reserves from previous harvests are owned by the entire community, to the point all individuals are guaranteed equal access; social and economic inequality like we face in modern contexts simply does not exist for them.  Rocky soils and difficult land holdings are also communally utilized for the benefit of all creatures in the context. They deem certain hollowed out boulders way kulup (a designation that seems to imply 'foreskin',) and these are utilized as water containers both for human as well as for livestock needs.
By way of Nasr's perspective, we can see that the religious world view of the Marapu serves as a front line for preserving the environment and as a shield for protecting their non-secularized world view.  In like manner, it is important to realize that the Marapu community has not forfeited their sense of the sacred, nor has the cultural-religious dimension they hold to in respect to their surrounding environment vanished.  Likewise, Latour's thesis points out clearly that science and modernity tend to sever the relationship between humans and the natural environment, to the point there results a decoupling that severely threatens our future vis-à-vis our environment.  In contrast, the Marapu community diligently sustain their interconnectedness with nature, with a realization that their well-being remains utterly dependent upon maintaining the welfare of the tana, that is, of the whole of the surrounding environment.  Given this religio-ecological world view, Northcott's insights become pertinent, with emphasis placed on the importance of indigenous religion and the role communal custom law (adat) serves as local communities wrestle with ecological factors.  Discrimination against these types of traditional world views simply must cease.  If we make way for local (adat) communities, it is likely indigenous religious perspectives will contribute significantly as we confront common complex problems, such as the environmental crisis.  It is hopefully obvious that communities like this—often labelled 'primitive' or 'isolated'—can make compelling contributions toward addressing the most serious global issues we face.
______________________
Krisharyanto Umbu Deta is graduate student in the Center for Religious and Cross-cultural Studies (CRCS) Program, Graduate School, Universitas Gadjah Mada. To read Umbu's other writings, click here.
For the original Indonesian language version (Resistansi Adat Marapu Melawan Kuasa Korporasi dan Sekularisasi Tanah), click here.