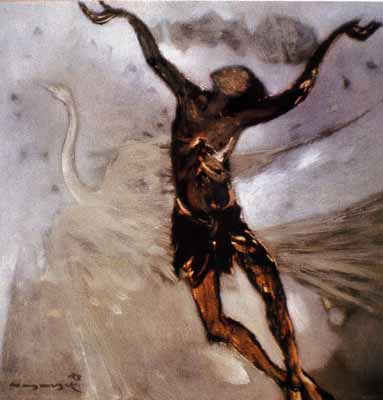 On Being a Christian Minority in Indonesia on Ascension Day
Gregory Vanderbilt – May 24, 2017
Celebrating Ascension Day is something new for me in Indonesia, the only non-Christian majority country and the only in Asia to set this day aside as a public holiday, one of three each year representing two of Indonesia's recognized religions.  Ascension Day is when Christians remember the return of Jesus Christ to Heaven (once imagined as above) following his execution on the cross, his resurrection from the dead and subsequent appearance to numerous witnesses.
Though some of the Gospels place this event on Easter Sunday or soon thereafter, the holiday comes forty days later.  Pentecost, celebrated ten days from now, is about the gift of the Holy Spirit and the universality of the Christian message in every language, but Ascension Day is too often about worldly authority—especially as the so-called Great Commission at the end of Matthew's gospel is too often read.
The opening scene of Acts shows it's about something else, about how this order will end and how to live in the meantime:
So when they had come together, they asked him, "Lord, is this the time when you will restore the kingdom to Israel?"  He replied, "It is not for you to know the times or periods that the Father has set by his own authority. But you will receive power when the Holy Spirit has come upon you; and you will be my witnesses in Jerusalem, in all Judea and Samaria, and to the ends of the earth."

When he had said this, as they were watching, he was lifted up, and a cloud took him out of their sight. While he was going and they were gazing up toward heaven, suddenly two men in white robes stood by them.  They said, "Men of Galilee, why do you stand looking up toward heaven? This Jesus, who has been taken up from you into heaven, will come in the same way as you saw him go into heaven."  (Acts 1:6-11, NRSV)
Thanks to students who are friends—or rather friends who are or have been CRCS students—this last year I witnessed both Christmas and Easter in Protestant communities outside Java—Christmas in Alor, one set of islands within Nusa Tenggara Timor Province, and Good Friday and Easter in a small city in West Sumatra about an hour-and-a-half over a mountain pass from Padang.  Obet (2015 batch) studied religious education for Gereja Masehi Injili Timor (GMIT) and is now writing his thesis on the "social capital" in the lego-lego collective dance of Alor; Ranto (2012 batch), now a pastoral candidate for Huria Kristen Batak Protestant (HKBP), wrote his CRCS thesis about diasporal definitions of Batakness among HKBP youth in Jakarta.
Both churches can be called traditional and ethnic/local: traditional in that the forms of worship, down to the robes and liturgies, refer to styles brought from Europe at least a century ago even if now livened by the electronic keyboard's rhythm box, and ethnic/local in that infant members are simultaneously baptized into two kinds of grace in the church and the kinship/village community.  In each, even an outsider, even their first bule visitor who is also an UGM lecturer, could find a place in relation to his host, as a member of a generation that can greet its forebears as fathers and mothers, grandfathers and grandmothers, or as an honorary part of a clan, able to claim a marga to both curious and appreciative responses. 
Minority is a matter of scale and perception, just as majority status is both empirical and emotional.  Even if Christianity is the religion with the most adherents on the planet, with lip-service from the most powerful of countries, Christians—including Catholics, Protestants, Orthodox, Charismatics, etc.—comprise the majority in only one Asian nation and form a minority larger than Indonesia's in only two (or possibly three) others.  Before I went to West Sumatra, Pak Zainal mentioned a chilling slogan he had heard on a visit there: "the majority protects, the minority respects." In Ranto's city, the minority comprises perhaps less than 1.5% and the majority does not provide, even for mandatory religious education which is left to the Christian communities to organize and pay for.
Before we reached Obet's island on Christmas afternoon, there were already rumors that the pastor had "cancelled Christmas."  It turned out that he had decided preaching once on Christmas, a Sunday, was enough, but, for the elders, tradition required a service on Christmas night as well and so one of them, a man Obet had called "father" and greeted with a nose-rub in the harbor in Kalabahi, stepped up to preach.
This sense of authority embodied in the elders, even when there is conflict, is all the tighter when the church and the community overlap so completely, as when a minority is defining itself and having itself defined by its difference from what surrounds it. Indeed, conflict is not a rupture of community but, in a way, an expression of it, even as Ranto spends his days mediating emotional and tense outpourings from social (and economic) slights, convincing them in the terms of 1 Corinthians 11, to come back to the worship service the next Sunday to receive Communion. Christ and culture are negotiated within power and love…
What struck me most in each place is how houses of worship serve two functions: they are the gathering space for the community of believers and they mark publicly the community's presence as part of the social and political landscape.  Rejection hurts more deeply than only the loss of a place. In West Sumatra, the Christians have been denied the right to a church building of their own for decades, leaving them to share a badly worn chapel in a military housing complex with the Catholic parish, carefully dividing the Sunday hours. One of the youth made sure I walked down the block from the elder's house where the Protestant church holds its religious education classes and youth meetings to see a broken-out shell of another house which the Catholics had used to accommodate visiting priests and for their own gatherings and religious education programs, until they were forced to make it unusable for anything.   
In Obet's village, the church was similarly a public flashpoint, and point of hope: after the Christmas Night service, as we waited to perform the lego-lego dance with the youth, suddenly there was anger in the air and the young men of the village went running to the church.  Rumors of terrorist threats against churches in West Java had been translated into a bomb scare at a church in the area and they were rushing to defend their own. Obet too was angry, not because a threat had or had not come from outside, but because the youth did not know—or had chosen to forget—the village's own history.
Some years earlier, after a series of efforts to begin the construction of a new church building had failed, the reason came to one of the local leaders in a dream: their church could be built only with the help and friendship of their Muslim neighbors.  They bought the materials and tied up their pigs and dogs and prepared food and drinks as the men of a Muslim village up the coast built their new church building.
As Obet showed me, this act was commemorated in its windows—above each set of three windows, the cross was flanked by a five-spoked half-wheel, a symbol of Islam. A few years later, the Christians reciprocated by building a new mosque for their neighbors. If remembered, this kind of quiet solidarity story can be important for preserving a sense of neighborliness in a plural world.
The day after I returned to Jogja from West Sumatra, Jakarta voters rejected the incumbent governor, a Christian of Chinese origin, in favor of an erstwhile liberal who seemed content to ride on a wave of "membela ____", a rhetoric paralleling the "Make _____ Great Again" that won the recent election in my own country, without stopping to inquire "membela from what?"  Yet minorities know that this kind of anxious populism that uses calls to purify cannot be satisfied until the minority-enemy of the moment has been erased.   Now, as my Mennonite congregation in Yogyakarta prepares, perhaps nervously, an "outbound" game day at an elder's factory grounds for the certain good weather of Ascension Day, that same governor is in jail, convicted of blasphemy and no longer seeking to appeal, and the public place of religious minorities is in danger.
In the Advanced Study of Christianity course at CRCS, just completed, it only makes sense to me to read eschatology together with liberation, since, after all, the New Testament standard set in Matthew 25 for how we will be judged "when the Son of Man comes" is in how we have recognized Jesus in the naked, the hungry, the orphaned, the stranger, the prisoner.
Ascension Day tells us that this order too will end, but liberation asks us the question of how we will live ethically and in solidarity within it, nonetheless.  "How are we to live as a Christian minority?" asked one Batak youth in a late-night discussion on Good Friday, as Jesus lay in his grave.  What answer is there beyond "by defending the Constitution and standing with the vulnerable"? For that, even this Ascension Day may be worth celebrating.
___________________
Gregory Vanderbilt was a lecturer at CRCS in 2014-2019 and teaching courses on Christianity and on religion and globalization.
Header image: "The Ascension", a 1983 oil painting by a Yogyakarta artist Bagong Kussudiardja (d. 2004)