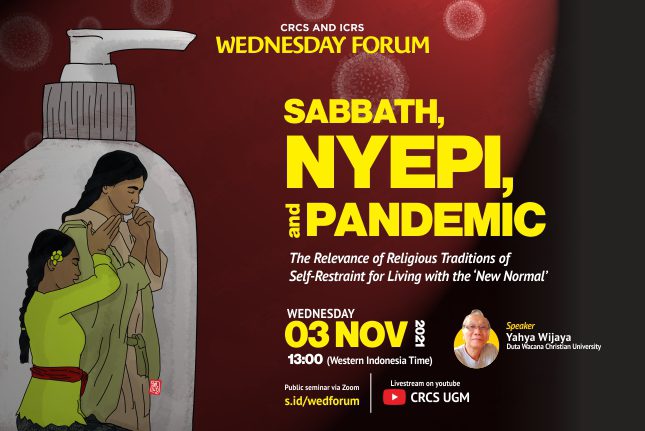 Sabbath, Nyepi, and Pandemic: The Relevance of Religious Traditions of Self-Restraint for Living with the 'New Normal'
Wednesday Forum – 03 November 2021
This study focuses on the relevance of religious traditions of self-restraint, particularly Sabbath and Nyepi, in the context of the COVID-19 pandemic. From an economic perspective, the pandemic interrupts a lifestyle marked by an unceasing process of production and consumption that affects almost all aspects of life. Such a lifestyle, known as 'productivism', has been confronted with 'antiproductivism' promoted by groups of Marxism-inspired intellectuals and activists. Employing the method of public theology, this study reveals that religious traditions of self-restraint prepare humanity to anticipate interruptions of regularity, such as a pandemic, in a way that is critical of productivism yet distinct from antiproductivism. From a spiritual perspective, the pandemic and religious traditions of self-restraint should be perceived as synergistic appeals to a balanced lifestyle that is socially, economically, and ecologically harmonious.
Yahya Wijaya is professor of public theology at Duta Wacana Christian University, Yogyakarta, Indonesia, and affiliated faculty member ICRS. He holds a ThM from Princeton Theological Seminary and a PhD from the University of Leeds. He has authored and co-authored books on public theology and Christian ethics in English and Indonesian; and published in several international as well as Indonesian journals in the areas of theology, business ethics, and philosophy.
The full poster of this event is available here.