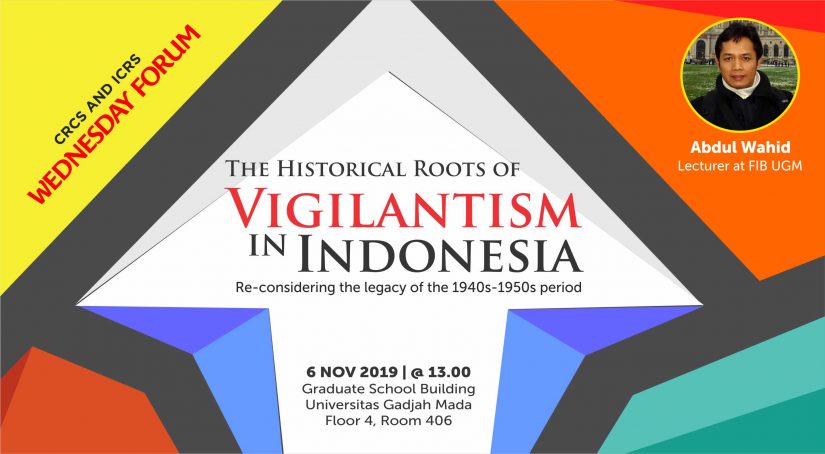 The Historical Roots of Vigilantism in Indonesia
Re-considering the legacy of the 1940s-1950s period
Wednesday Forum – 6 Nov 2019
Vigilantism, mostly based on religious identities, has emerged as an important feature of Indonesian politics in the last two decades. Studies have extensively discussed its complexity, focusing on the connection of vigilante groups with the rise of identity politics and the threats these groups pose to the future of Indonesian democracy. Yet few studies have tried to analyze its origins, by pinpointing the roots in the late 1990s, prior to the fall of New Order. In this talk I will argue that (Islamic) vigilantism in Indonesia can actually be traced back to between the 1940s-1950s, a formative period of modern-independent Indonesia during which vigilantism found fertile ground to grow and develop.
Abdul Wahid is a lecturer at the Department of History, UGM, where he previously earned both BA and MA in 2000 and 2006. He received his MPhil degree from the Institute of History, Leiden University in 2009; and PhD from Utrecht University in 2013. Since June 2017, he has been a post-doctoral research for the project Violence Strikes Root: why vigilantism became central to Indonesian Politics, 1943-1957 at KITLV Leiden.
Look at the full poster of this event here.