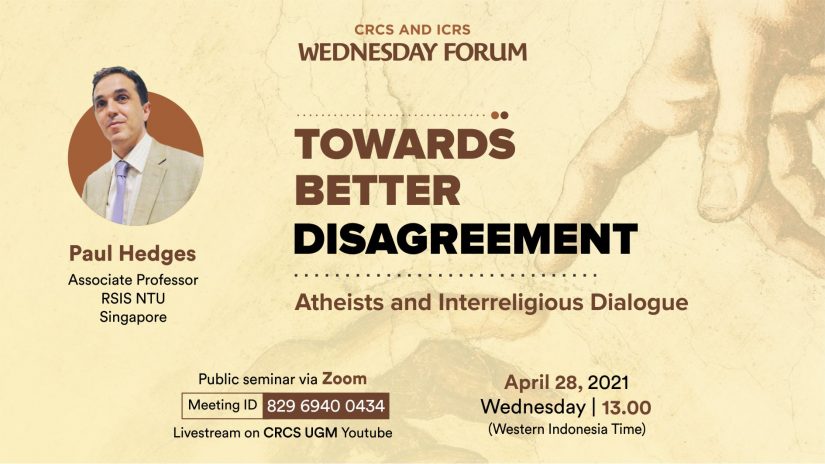 Towards Better Disagreement: Atheists and Interreligious Dialogue 
Wednesday Forum – 28 April 2021
Those identifying with religion and those identifying with atheism may seem locked in misunderstanding. However, against fierce rhetoric on both sides, common grounds for agreement can be found. Better disagreement between the two sides requires at least three things. First, a more educated and balanced understanding of the Other beyond strawman polemics. Second, the recognition that since neither religious nor atheist worldviews will disappear, a search for areas of cooperation is required. Third, a deep humility that acknowledges that as human beings we can never have certain knowledge, thereby avoiding dogmatic apologetics and developing appreciation for the voice of the Other. This presentation is based on my book Towards Better Disagreement: Religion and Atheism in Dialogue (2017).
Dr Paul Hedges is Associate Professor in the Interreligious Relations in Plural Societies Programme, RSIS, Nanyang Technological University, Singapore. His research areas include interreligious studies, comparative theology, and theory and method in the study of religion. He has published fourteen books and over seventy academic papers. His two latest books are: Understanding Religion: Theories and Methods for Studying Religiously Diverse Societies (California University Press, 2021) and Religious Hatred: Prejudice, Islamophobia, and Antisemitism in Global Context (Bloomsbury Academic, 2021). 
The full poster of this event is available here.