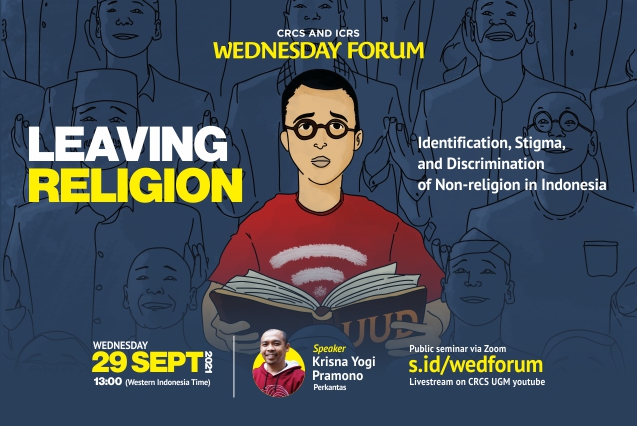 Leaving Religion: Identification, Stigma, and Discrimination of Non-religion in Indonesia
Wednesday Forum – 29 September 2021
Leaving religion has become a global phenomenon. Somehow, studies on this phenomenon are still limited in Indonesia. This study attempts to fill this lacuna. The researcher met 10 Indonesians who self-proclaimed as having no religion and collected their life narratives as the primary data for this research. These life narratives were analyzed to understand the construction process of an identity contrary to the ascribed identity and counters the hegemonic religious discourse in Indonesia and the strategies to negotiate its deviant position. The diversity of non-religious identity structures (formed as a combination of negation and affirmation of religious identity) and acts of identification operationalization (as a religious and non-religious person in a fluid and situational way) demonstrated the blur boundaries between religion and non-religion in realities. Thus non-religion can be satisfactorily described as various positions, claims, discourses, and practices that are different but in many ways related to religion.
Krisna Yogi Pramono is a recent graduate from the Center for Religious and Cross-cultural Studies (CRCS) UGM. His main interest is in interreligious dialogue, non-religious studies, and the faith formation of young people. Yogi currently works as a full-time staff in Perkantas, a Christian student ministry in Indonesia.
The full poster of this event is available here.
Read the discussion summary of this Wednesday Forum here